24V TOUCH TV 4WD RUBBER TIRES , GIANT UTV RIDE ON , BUGGY, BLUETOOTH , REMOTE OR PRESS ON PEDAL AND GO .. BUGGY RUBBER TIRES ADJUSTABLE LEATHER SEAT RED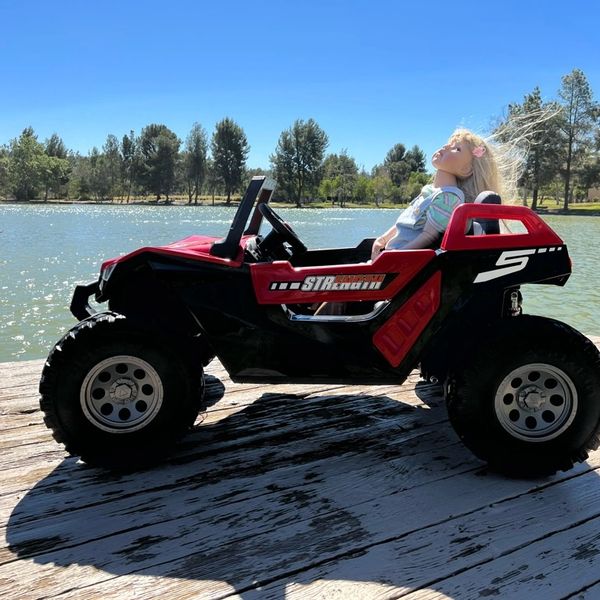 24V TOUCH TV 4WD RUBBER TIRES , GIANT UTV RIDE ON , BUGGY, BLUETOOTH , REMOTE OR PRESS ON PEDAL AND GO .. BUGGY RUBBER TIRES ADJUSTABLE LEATHER SEAT RED
Shipment 2-8 days from order date. .
Limited Inventory 
Features: Fully Upgraded 

    GIANT UTV
 TOUCH SCREEN TV MP3 & MP4 
In stock now
Kids can Fully control the car while parents can fully control them with remote 
24V battery with upgraded motors    

 2 Seat big tires off road power wheel

Ideal for two kids1- 10 years old 
Realistic features with functioning lights and adjustable seat belt
2 modes of operation via steering wheel and pedal or remote control (2.4G Bluetooth)
Authentic driving experience with forward, reverse and steering controls
Specifications:
Color: RED
TOUCH TV MP4
UTV Dimensions: 59 x 39" x 30" 

Outside Dimensions box : 59x33x18 
Speed: 5-8 mph
Age range:1- 10 years  2 kids 
Battery: Rechargeable 24v Battery 
Drive Motor: 4 motors 
Charging Time: 8-10 hours
Maximum weight : 140lbs two kids 
Drive Time: 45 to Up to 90 minutes 
Certifications: CPC, ASTMF963, CPSIA
NOTE:
SECURED AND SAFE SHIPMENT METHOD WITH GPX FREIGHT TO YOUR AREA FOR CUSTOMER PICK UP USING THEIR ID.