TOUCH TV , 24V , GIANT AUDI Q5 XL UTV AGES 2-7 RAZOR STYLE, PARE NTAL REMOTE CONTROL OR PRSS ON PEDAL AND GO..LEATHER SEAT , RUBBER TIRES , 4WD . Truck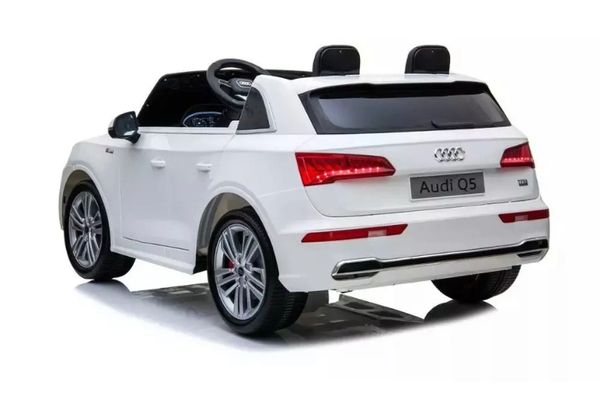 TOUCH TV , 24V , GIANT AUDI Q5 XL UTV AGES 2-7 RAZOR STYLE, PARE NTAL REMOTE CONTROL OR PRSS ON PEDAL AND GO..LEATHER SEAT , RUBBER TIRES , 4WD . Truck
SHIPPING IS NOW WITH ECONOMY GPX TO A TERMINAL NEAR YOUR AREA TO REDUCE DAMAGES BY UPS AND ... AND MISPLACED ITEMS . YOU WILL NEED TO PICK UP THE ITEM USING YOUR ID . THIS IS THE BEST AND MOST SECURED METHOD. 

 Shipment is to lower 48 States 
THIS ITEM COMES WITH A REMOTE CONTROL OVER-RIDE WHILE KIDS LEARN TO DRIVE IT THEMSELVES

Two Seater Ages 2-7
BRAND NEW 2020 AUDI Q5 TWO Seater 
Also available  , Black and Red
GIANT LICENSED AUDI Q5. TOUCH SCREEN TV MP3 & MP4 
Kids can Fully control the car while parents can fully control them with remote over- ride! 
24V ( 2X 12 V) NOT ONE 24V battery with upgraded motors 
2 Seat 
big tires off road power wheel
Ideal for two kids 2-7 years old 
Realistic features with functioning lights and adjustable seat belt
2 modes of operation via steering wheel and pedal or remote control (2.4G Bluetooth)
Authentic driving experience with forward, reverse and steering controls
Color: White 
TOUCH TV MP4
Speed: 5-7 mph
Age range: 2-7 years 2 kids 
Battery: Rechargeable 2x 12v batteries in Battery box 
Drive Motor: 4 motors 
Product Size 58 x 37 x 26 
Box weight: 90 lbs 
Charging Time: 8-10 hours
Drive Time: 90 min
Net Weight: 90
2x 12v batteries to power 4 motors
Certifications: CPC, ASTMF963, CPSIA