$50 refundable Deposit $545 Cash at pick up LICENSED TWO SEATER BMW X6 LARGEST LUXURY CAR , LEATHER SEAT AUX MASSIVE MOTORS REMOTE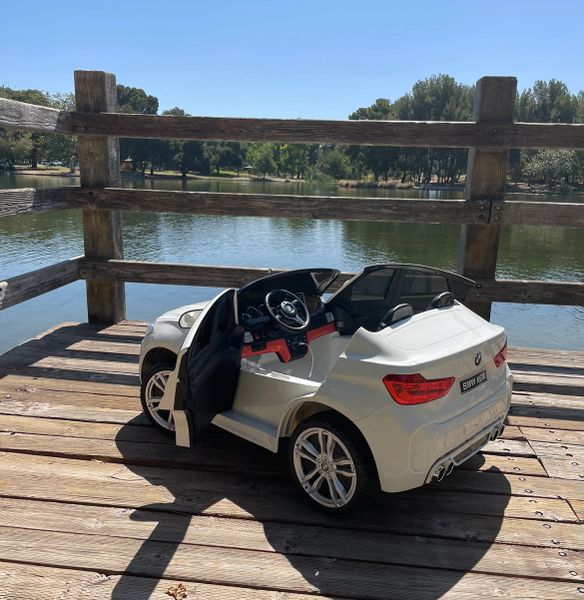 $50 refundable Deposit $545 Cash at pick up LICENSED TWO SEATER BMW X6 LARGEST LUXURY CAR , LEATHER SEAT AUX MASSIVE MOTORS REMOTE
FOR CASH LOCAL PICKUP INCENTIVE PLEASE TEXT ALEX 714 3504838 
OFFICIALLY LICENSED by BMW.  All the signature designs are here, from LED headlights, dashboard instrument with lights. It even comes with real rubber tires for a smoother, longer lasting ride.
PLAY SAFE with an adjustable seatbelt for one child aged 3-8 and up to 110 lbs.  A powerful 12V battery ensures hours of uninterrupted fun (charger included).

QUICK ASSEMBLY with straight forward step by step instructions that are clearly laid out.  The only tool you need is a screwdriver.
FEATURES:
1-6 years old
Color : White
110 lbs. max
Biggest 12 V Battery
2-Seater
Adjustable seat belt.
LED headlights
Leather seats
EVA tires
DIMENSIONS:
PACKAGE DIMENSIONS:
60in*33in*23in

93 lbs.




Shipment will be to your location ready for pick up via GPX package express. 

We Only charge approximately 25% of the actual cost of shipment so we dont add it to the retail price for our local customers. No Sales tax our of California will apply.