Air in tires ages 6-12 Largest UTV in market 24V 14AH motors with steel frame UP to 200 lbs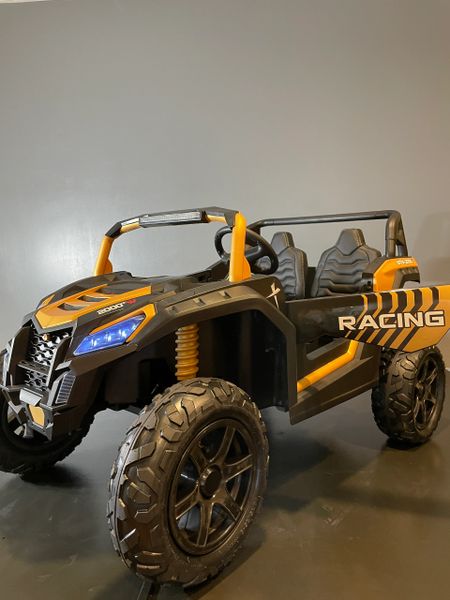 Air in tires ages 6-12 Largest UTV in market 24V 14AH motors with steel frame UP to 200 lbs
Free assembly 


Shipment is with UPS OR greyhound GPX to your Zip Code . You must pick up the item using your ID . 10-17 days after order. 
Huge 180-watt motor 

24 Volt brushless motor

Opening doors

Approximately 10 -15 MPH

Great for ages 6 and up to small adult!

Working headlights & brake lights

Real air-filled rubber tires 

USB/MP3 / Bluetooth connectivity

Exclusive variable speed foot pedal

Brake pedal to slow down

Heavy-duty disk brakes on rear

Leather Adjustable seat

All steel frame

Rear heavy duty differential

Safety seat belts

Forward and reverse shifter

2-Speed in car high & low switch

Includes 24v 14AH exclusive upgraded battery

Exclusive charging adapter cable to charge battery outside of vehicle

24-Volt wall charger
Up to  200 Lbs

Charging time 8-12 hours

Run time: 30-60 minutes

12.5" diameter tires

Back of seat to pedal 29"

Weight of Car: 135 LBS

Height of car 28"

Width of car 42"

Length of car 66
We Only charge approximately 25% of the actual cost of shipment so we dont add it to the retail price for our local customers. No Sales tax our of California will apply. 

Sent from Yahoo Mail for iPhone