AGES 1-5 Special Pricing Two Seater Lamborghini Veneno Ride On REMOTE OR PRESS ON PEDAL AND GO . Toy Car Touch TV 24V 4WD Leather Parental Remote Black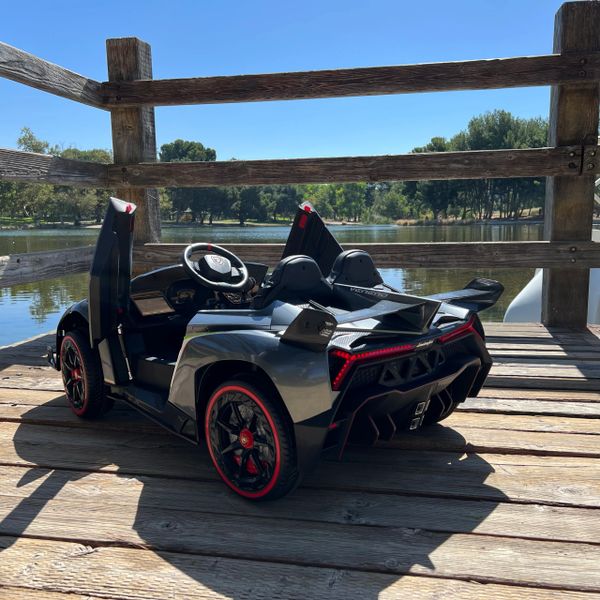 AGES 1-5 Special Pricing Two Seater Lamborghini Veneno Ride On REMOTE OR PRESS ON PEDAL AND GO . Toy Car Touch TV 24V 4WD Leather Parental Remote Black
FOR CASH LOCAL PICKUP INCENTIVE PLEASE TEXT ALEX 714 3504838 

Lamborghini Veneno Touch Tv BLACK 
Note : This item has been Upgraded/ Spray Painted Metallic Black  by Factory. Huge upgrade as plastic injection colors - will lose their shine and scratch easily.
24V 2x12 V batteries 
Colors : Spray Painted Black 
Leather 2 Seater Ride on Ages 1-6 Parental Remote. 
Touch Screen TV for Video and Audio some cartons already downloaded for video or music Via included SD card.
24V Battery, 4 Motors, 3 Speeds (controlled by Parental Remote) Or press on pedal and Go.
Forward / Park / Reverse shifter Switch, Lights ON/OFF
Lever Handle Switch
Full Function Long Range 2.4Ghz Parental Remote Control with remote STOP function
Two Speeds and Reverse on Dashboard; 3 Speeds on Remote
Soft Start and Electric Brake System for Gradual Acceleration and Reliable Braking
Realistic working Imitation LED Headlights / Tail Lights / Dashboard Lights and Gauges
Fully functioning Entertainment System which plays Audio files from Micro SD card or USB Flash Drive Secondary AUX port for playing music from phones or other music players
Horn Sound Buttons on the Steering Wheel
Wide two seater with seat belt 
Rubber (EVA Tires) 
Very Easy to Assemble, Requires Less Than 30 min
CARE INSTRUCTIONS
Do not overcharge your ride on car. Follow your manual for the appropriate charging time.
Do not try to carry your ride on car from the steering wheel, it is not strong enough to sustain the weight of your power wheel, and it may break.