Ages 1-6 3 seat Jeep Style Ride on Military Style toy car with remote Biggest possible battery Rubber Tires , Leather Seat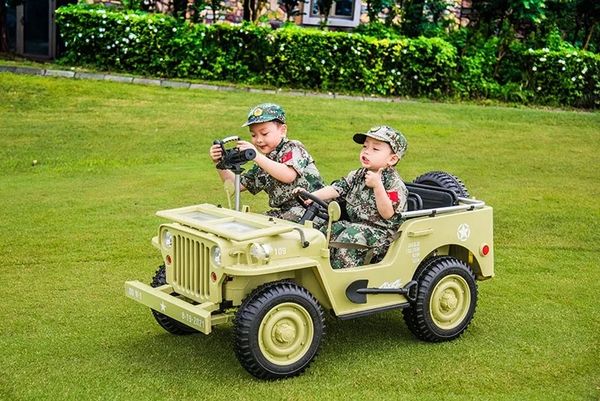 Ages 1-6 3 seat Jeep Style Ride on Military Style toy car with remote Biggest possible battery Rubber Tires , Leather Seat
SPECIFICATIONS
- Product Size: 64x32x32 inches
- Three seats
- Five wheels
- With opening doors
- Removable battery box
- Two motors, battery 12V 14A
- Four wheels with suspension
- With bluetooth and power display
- Electric pedal controlled and 2.4G remote controlled
FEATURES
1. This kids car is battery powered and can be manually controlled by kid or remote controlled by parents if the kid is not old enough to drive the car by self.
2. preprogrammed songs for kids to enjoy; also has bluetooth function, built-in AUX port, USB port and TF card slot so you can connect your music to it.
3. Military truck with 3 seaters design can fit 3 children at the same time; additional wheel attached to the car back can be a wheel replacement in case of need.
4. Working LED lights; four wheels with suspension system; storage cases beside the back seat can hold drinks or or other portable gadgets.
5. More details: 2 motors, 12V 14A battery; car measurements 64x32x32 inches; suitable for kids ages 2-4 years old.
3 Seaters Kids Ride On Truck with Remote Control, Military Vehicle Car Toy for Toddlers, Bluetooth Function, Four Wheels Suspension
We Only charge approximately 25% of the actual cost of shipment so we dont add it to the retail price for our local customers. No Sales tax our of California will apply.